Strong Women Squad goes to... RUN THE WORLD (our own first ever event!)
We did it! We held our very first Strong Women Squad event, Run The World: A Night of Beyoncé, empowerment and inspiration. What an amazing night it turned out to be, and that was all thanks to the women who came to dance, speak, perform, laugh, cry, make connections, feel inspired and inspire others.
Check out the photos below to see how it all went down...
To celebrate International Women's Day 2018, and in aid of Women's Aid, Run The World was held on Thursday 15th March at The Dead Dolls House in Islington, London. We started by learning how to slay in a Beyoncé-themed Diva Dance Class, and then spent the rest of the evening mingling, chatting, and listening to empowering lightning talks and performance by some amazing female guests. And it call came together in conjunction with the wonderful Sara Veal of Huhbub, a service for authors and publishers, specialising in campaigns that contribute to the community.
All photos below courtesy of the marvellous Craig Simmonds, whose website can be found here, or you can follow him on Instagram, Twitter or YouTube.
Beyoncé Diva Dance Workshop
We started out unleashing our inner divas with a workshop and tutorial to Queen Bey's Run The World (Girls), courtesy of Louie Douglas. Louise is a unicorn-haired dance teacher, with loads of great classes coming up at City Academy, including 90s Britney workshops, Little Mix workshops, Street Dance and of course, more Beyoncé Diva action! She's also part of the phenomental magic troupe, Chicks N Tricks. You can follow her on Twitter, Facebook, Instagram.
This was SO MUCH FUN.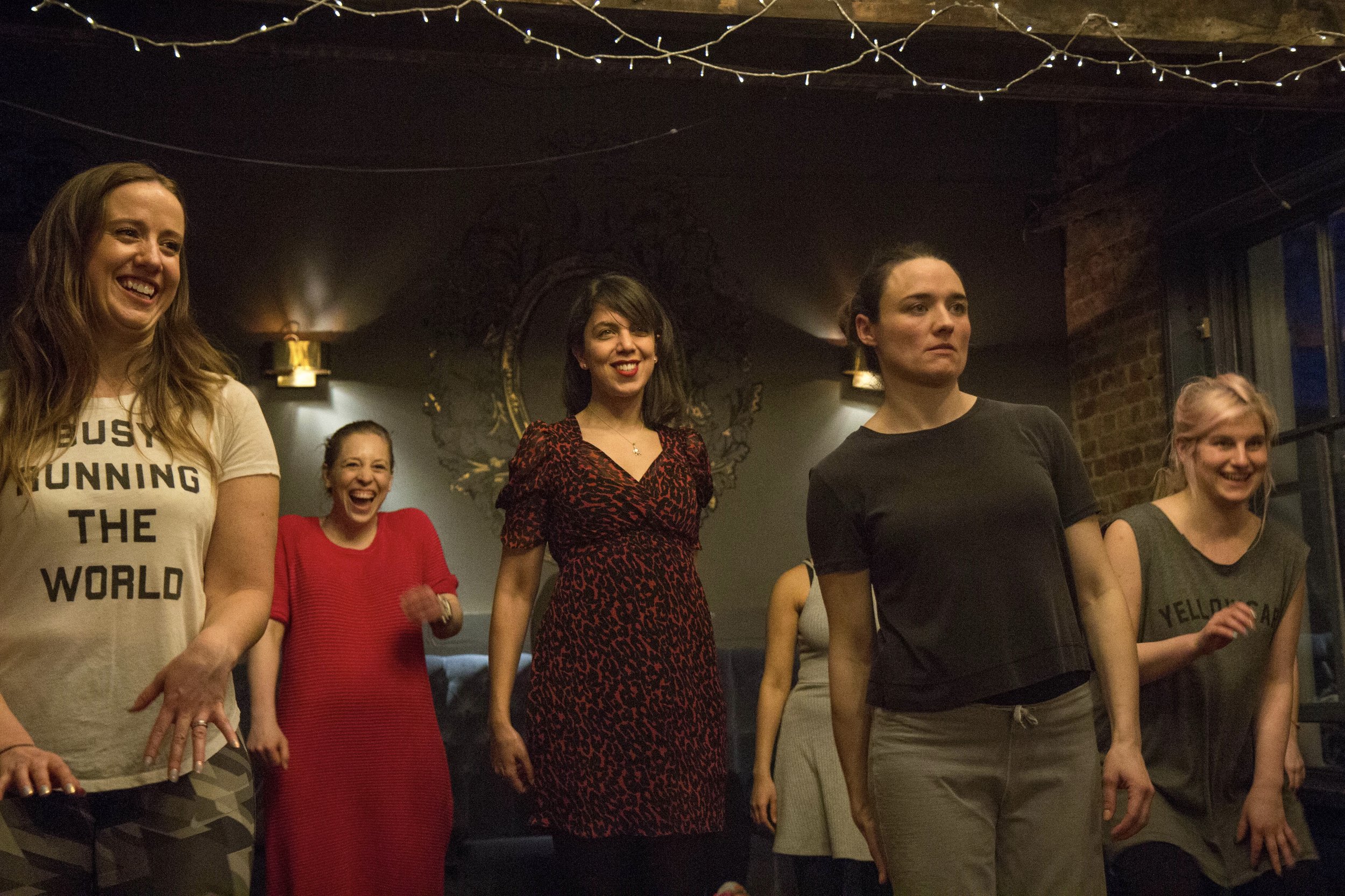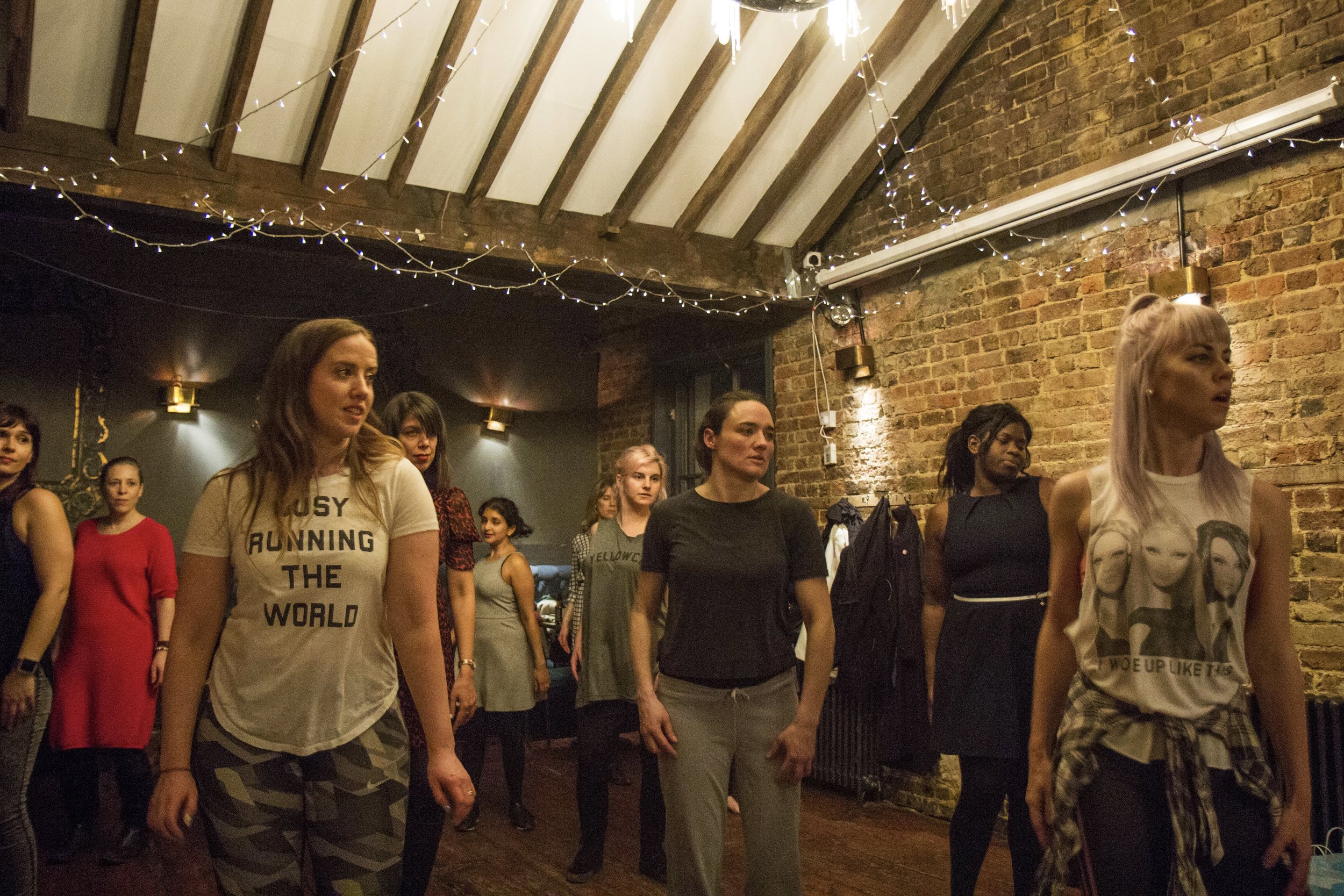 1st Lightning Talk - Liane Katz: Co-Founder, MAMA.codes
Liane is a digital native with more than 17 years experience in digital media and in 2016, she co-founded MAMA.codes, which believes in coding as the new literacy, and teaches kids to code through fun and creative projects at after-school clubs and workshops. At Run The World, Liane spoke about how she built her business from simple leaflet drops through doors, and inspired us to all be our own bosses!
You can follow Liane on Twitter, Facebook, Instagram, and there's also a great interview with her in The Memo.
2nd Lightning Talk - Emma Kosmin: Programme Manager, Living Wage Foundation
The Living Wage (Twitter, Instagram) Foundation is at the heart of the independent movement of businesses and people that campaign for the idea that a hard day's work deserves a fair day's pay. Emma talked to us about the struggle many people face when they don't earn a living wage, and told how we and our companies could get involved and make sure we're doing to right thing. Emma also recently completed the South Coast Challenge and raised over £4,000 for Mind, the mental health charity.
3rd Lightning Talk - Keomony Kuhn: Graduate Software Engineer, Thoughtworks
Mony didn't leave a dry eye in the house when she talked passionately about how she was so shy when she first moved over from Cambodia, but her drive and vision pushed her to become the energetic and welcoming person she is today. Prior to moving to the UK, she built Cambodia's first government website, and has worked with the United Nations Development Programme, the Cambodian Institute for Cooperation and Peace, the Cambodian Women's Crisis Centre and the Cambodian Centre for Human Rights. She was also one of the first to have an e-commerce site in Cambodia. She now works at Thoughtworks, a global technology consultancy that believes in technology as tools for social change.
Performance - Pea Tyczynska: Budding Web Developer and Hula Hoop Artist
Pea began her hula hoop performance by talking about how even when you make a lot of mistakes you have to keep getting up and trying again, and only by doing that has she become the beautiful artist she is today. She gave a stunning performance to Massive Attack's Teardrop, with the lights off and her glowing hoop mesmerising us all!
Pea recently retrained in web development at Makers Academy, Europe's top coding bootcamp. She creates comics and works in traditional, digital and mixed media. She currently works for Government Digital Services, which is leading the digital transformation of the UK government.
4th Lightning Talk - Yasmin Autwal: Founder, Stand for Humanity, Humanitarian and Poet
Yaz is an incredible force of nature who founded her movement Stand For Humanity following trips to help refugees in Calais a couple of years ago. She described Stand For Humanity as part of her talk, encouraging our attendees to fill out their pledge cards and aim to do one thing for the sake of humanity. She also talked about women, female empowerment, and how incredible it is to be a woman. Yaz recited one of her original poems, WOMAN, which she's shared on her Instagram page
5th Lightning Talk - Kayla Jones: Volunteer Boobette for Coppefeel!
Armed with a giant boob cushion and the kindest heart, Kayla Jones talked to us about the importance of breast cancer awareness. She told us her own story, of being a carrier of the BRCA1 gene and how that changed her life, and the story of the Coppafeel founders, who turned a devastating piece of family news into a foundation that educates young women and men around the whole country, through talks (thanks to the Boobettes), quirky monthly text reminders to check your bang-bangs, 'Uni Boob' squads in universities and many other campaigns.
Performance - Amelia Sparkles: Aerialist, Hula Hoop Artist, Actor, Stilt Walker and Fire Performer
To finish the evening off, Amelia gave another beautiful hula hoop performance to Beyoncé's Halo. Amelia trained in acting and singing at drama school, and has become a master of movement - she excels at trapeze, aerial, hula hoop, silks and dance, to name but a few of the strings on her bow. Her skills have taken her around the world, and her clients have included the BBC, Converse, Harrods and Marks & Spencer.
And that wasn't it...! Check the photos below to see all our Strong Women enjoying our goodybags, power-women cocktails, and making connections. It was a great evening, and I guess Sara and I had better start planning the next one.